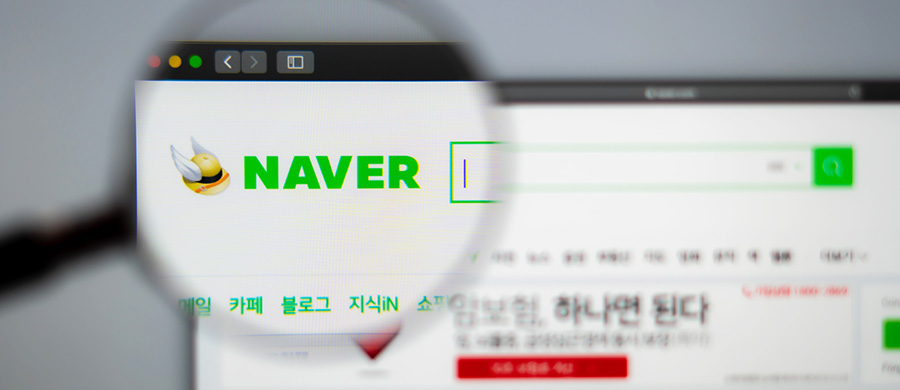 Search Market Share in Worldwide
Most of people may not be aware of it, only the United States, China, Russia and South Korea now have their own search engines in the world. In the case of the United States, Yahoo and Bing joined forces in Google's dominance in the mid of 2000s, but Google still occupies most of the search market share in the United States as well as the rest of the world. On the other hand, Baidu in China and Yandex in Russia facing Google world. In the case of Korea, Naver and Daum appeared in the late 1990s, and there was definitely a time when Daum was ahead of Naver in the beginning, but since then, Naver has dominated most of the search market share in Korea. Although Google has been putting a lot of effort since the mid-2000s, it seems that almost impossible to take away Naver's search market portion in Korea.
Portal vs. Search Engine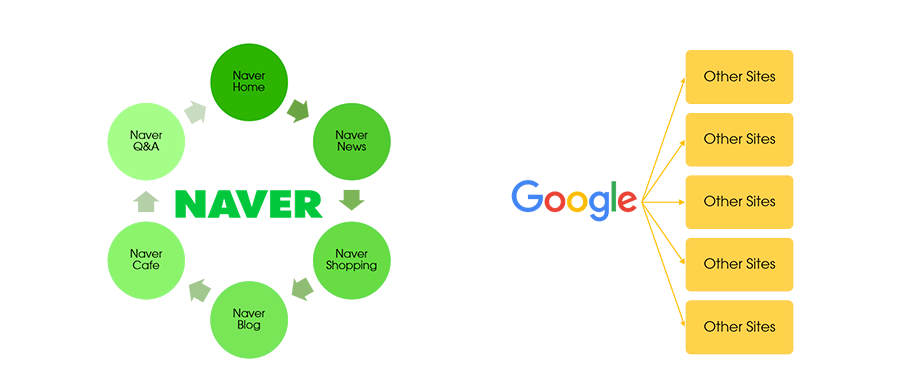 While Google struggled with which of the too many contents was the best result for users, Naver had relatively poor contents, so it was more important to create an environment that basically encourage users to create more contents for better results. Given that the US population alone is 300 million, and English is spoken in most countries around the world, separating content has become a priority for Google rather than providing content. On the other hand, Naver in a population of about 50 million with single Korean market was more concerned about what to show. As a results, Google showed only text-based webpage search results from the beginning but Naver display various search results that could look rich results instead of relatively poor web-based search results. Paradoxically, this is far before Google's later introduction of new SERP called universal search in 2007. While most blogs in the world use a separate CMS platform called WordPress, Naver began to expose search results through its own internal platform called Naver Blog in 2003, which is still the largest content area in NAVER. Although its popularity has decreased relatively compared to blogs, Naver Cafe has also received a lot of traffic as a type of community, and Naver Shopping is the most representative service that has grown in recent years, becoming one of the pillars of e-commerce in Korea. Unlike Google, where all search result link to other webpages, in the case of Naver, due to the establishment of such an internal platform, most of the search results are directed to internal services rather than external websites. As this abnormal circumstance is fixed, it is true that efforts or interests such as SEO to optimize their websites have not been neglected in Korea.
Rising of Google Search in Korea
If you look at the chart below released by Nielsen KoreanClick, Google had a very small search share on the desktop at 2.2% until 2010, but it shows a relatively large increase to 8.4% in 2017. In case of mobile, it has shown the second largest market share after Naver by default search engine in Android. For your reference, Nielsen KoreanClick measured the search market share through a number of panels with separately own program installed.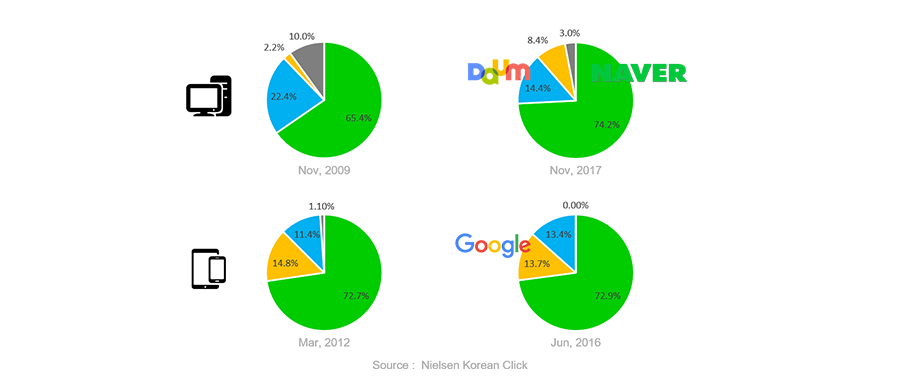 The following graph of data analyzed anonymously through web analytics installed on multiple websites by a company called Internet Trend. From 2018, it is clear that the organic traffic from Google is gradually increasing, while Naver search traffic is relatively decreasing. At the end of 2020, there was an event where Google's market share was higher than Naver's, but this seems to be an error in data or parameters. Google links most of the search results to other sites, Naver holds a significant number of search results to an internal platform rather than an external sites. You may fall into the error of overlooking the quantit of overall search traffic in Korea.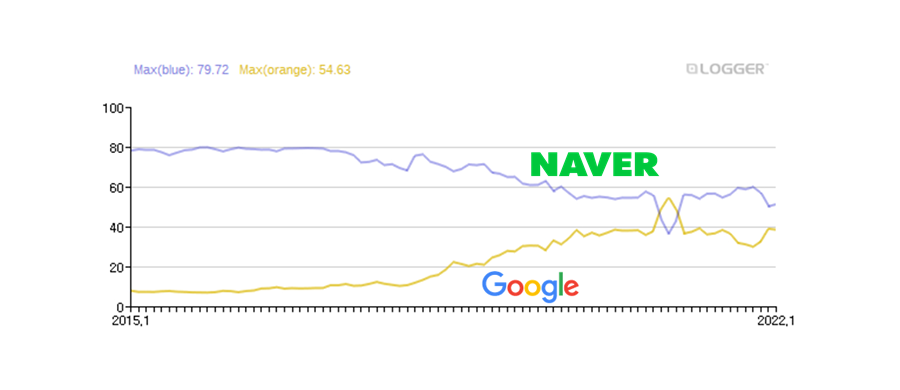 Unlike Google, which returns most of its search results to other websites, Naver holds a significant number of search results to internal platforms rather than external, so comparing the search market share only based on web analytics installed on the site can lead to a fallacy that can overlook entire Naver's search volume. Therefore, it is more accurate to view the chart below as the share of search traffic incoming to website rather than the overall search market share in Korea. Naver still leads the Korean search market with a share of 51%, but Google is now up to 39% and Daum has fallen to 6%. Although it is limited condition of incoming organic traffic to website, the search market share of NAVER is relatively falling compared to the past.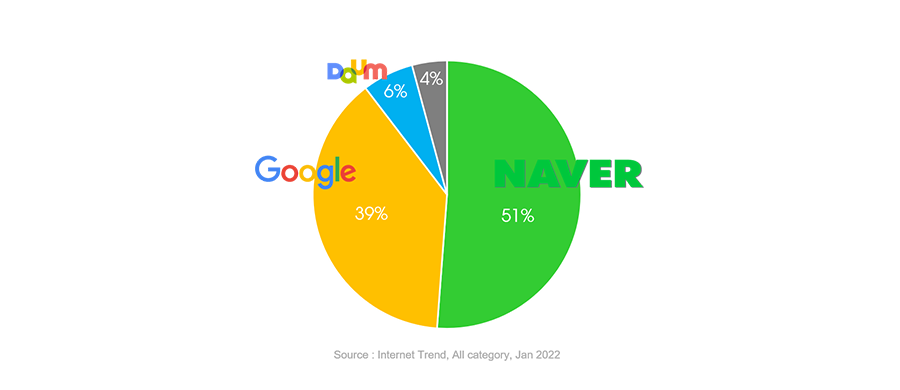 The below chart is one of news publishers in Korea which shows the percentage in organic search traffic by device from Google Analytics. As we expect, Naver dominated in search traffic in desktop which shows 65.7%, while Google shows a higher share of search traffic than Naver in mobile device. Considering relatively increasing in mobile search volume compared to stagnant search volume in desktop, the overall organic search traffic between Naver and Google can be said to be almost equal. However, as described above, this figure should be regarded as the proportion of the search traffic share by Korean websites can be received from Naver and Google search results rather than their share in the entire search market in Korea.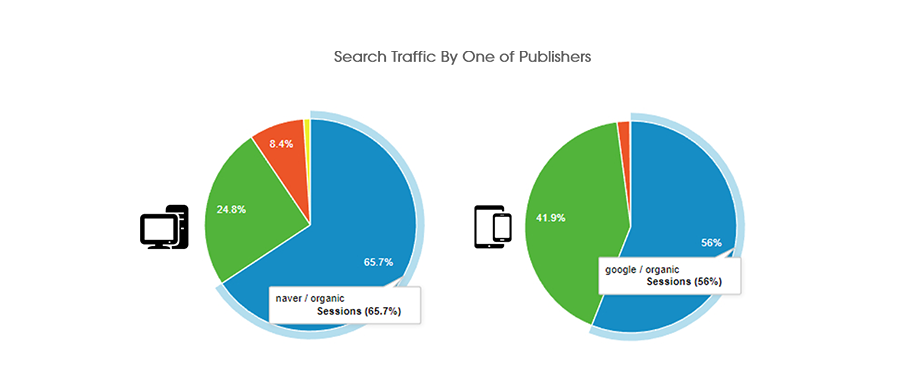 Search become Vertical and Personalized
In the '2021 Internet User Survey' released by Nasmedia which is one of media rep. in Korea, they reported YouTube (57.4%), Google (48.6%), Daum (25.4%), and Instagram (21.2%) were selected as top preferred search channel in Korean Internet users followed by Naver. The key finding of below graph is that the search activities are becoming vertical to various channels rather than the preference of search market as users search behavior has more personalized through mobile devices. Paradoxically, Naver is revealing the fundamental limitation of not being able to properly delivers to users for external content such as videos in YouTube or images in Instagram.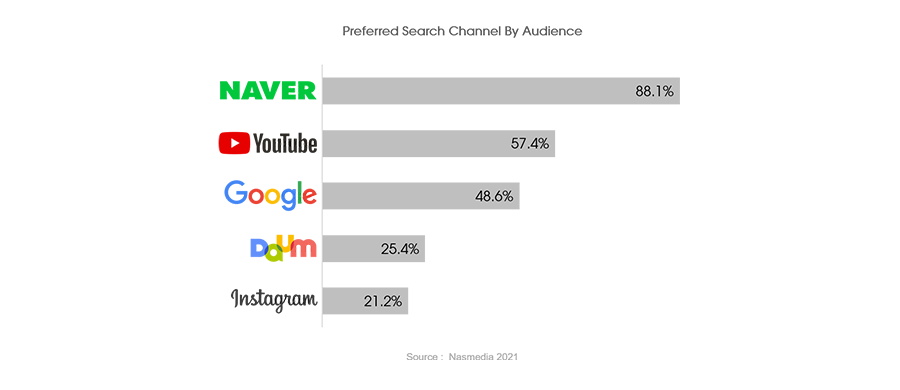 According to the Social media and Search Portal Trend Report 2019 published by Open Survey, it is clearly difference in preferred search channels by gender and age in Korea. First of all, the preference of male for Google is higher than that of female because the search results provided by Google show more information-oriented results than Naver. By age group, you can see that there are still some groups those over 40s who prefer Daum, while it almost disappears as go under the age of 40. On the other hand, in the case of Google, it is true that the usability increases from the young age groups, and at the same time, usage rate of high age groups seems to have settled down to some level. It is a result of having Google installed as the default search engine in the Chrome browser and mobile device.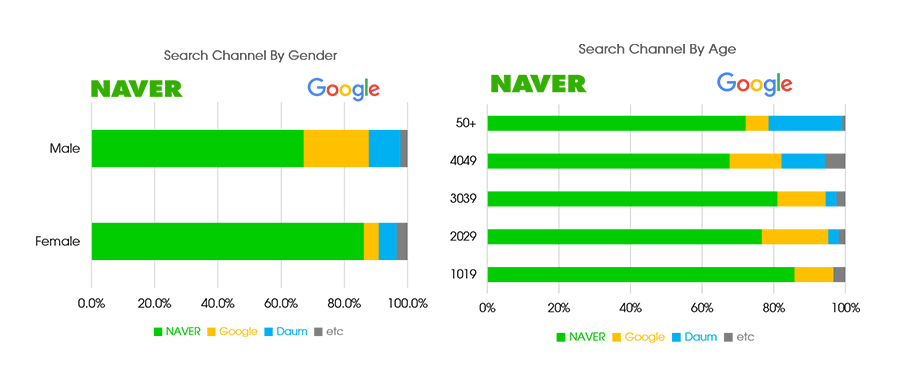 Search Engine Optimization in NAVER
As explained above, the portion of where web pages were displayed in Naver search results was relatively small compared to Google SERP, and most of the search results were linked to the internal platform provided by Naver. For this reason, we didn't even think about to receive an organic traffic from Naver SERP to websites by generic keywords such as relatively high search volume keywords except for some branded keywords. Therefore, unlike global markets, an approach to introduce brands or products was preferred through Naver blogs which are relatively highly positioned in Naver SERP rather than official website for organic search . As a results, this is one of major factor to losing of digital marketer's interest to optimize their website in Korea..
The positive new trend began since the end of 2017, Naver finally has been making efforts to completely improve its algorithm of webpage search results which returns meaningful organic search traffic to website compared to the past. On the other hand, as the number of user's search behaviors are now changing and the organic traffic from Google is rising in Korea even it may be different depend on the category or industry, but the increase in search traffic through search engine optimization is becoming more meaningful tactic to digital marketing than in the past.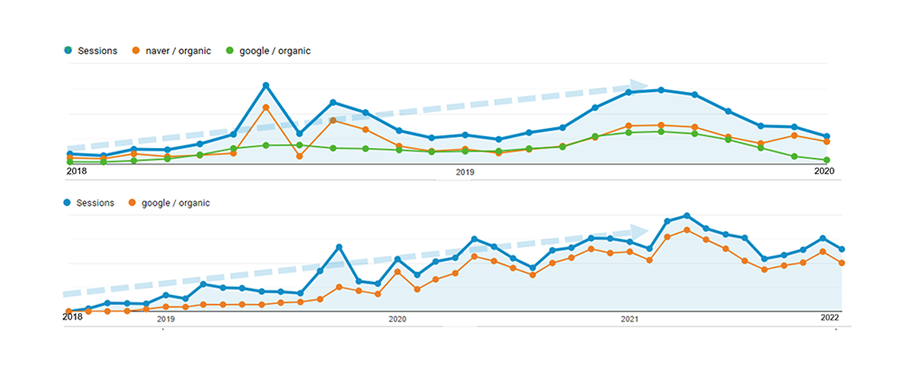 Above are actual results of search engine optimization for two websites in different industries which targeting for South Korea. Although there is a difference in incoming traffic trend of Naver and Google due to different from their services and product, the growth of organic search traffic can be seen after site optimization. Because preferred search channels or search keywords are vary depending on your industry and target audience, it is most important to take this into consideration whether running SEO project or not.  Nevertheless, unlike in the past, site optimization now can be an important strategy for digital marketing as meaningful organic growth of traffic is possible through search engine optimization in Korea.
English Content List
Korean Content List