Traditional Agency in Korea
The advertising that general public often thinks of refers to an advertising agency who providing campaign planning, creative production, and media buying mainly in four type of major media such as TV, Radio, Print and OOH. But it is questionable whether this concept will continue to be established in the near future when even TV, the most solid media, has been gradually losing audience to YouTube and OTT. This is why recently the outdoor advertising screen (OOH, Out-of-home), which has been beautifully embroidered around Gangnam in Seoul, paradoxically only seems to be their last bastion to replace the downgrades of traditional media.
Top 10 Advertising Agency in Korea
According to the 2022 advertising agency survey announced by KFAA, Korea Federation of Advertising Associations, the top 10 advertising companies include Cheil Worldwide, Innocean Worldwide, HS Ad, Daehong Communications, SM C&C, FSN, GroupM Korea, TBWA KOREA, Leo Burnett and D.BLENT. The total revenue of these top 10 advertising companies is approximately 15.8 trillion KRW, and the total billing accounts for 83% of the total advertisement spending in South Korea(Please know that some digital channel not included or missing like paid search and purely online media). And if you look at the share of the top 10 advertising agencies by media, you can see that the share of the traditional 4 type of major media, which is TV, Radio, Print and OOH accounted for 50% in early 2010, fell to around 25% in early 2020 and most of the rest media budget spending for online. The interesting part is that as the proportion of online media becomes larger among the four traditional media, the amount of billing per person is decreasing. This story, after all, could be interpreted as a traditional media that could scale from the concept of mass production, but online, on the contrary, it would require more manpower, or it would be less skilled, otherwise it would be less efficient comparing old approach.
Global Advertising Agencies in Korea
There is no doubt that Cheil Worldwide(a subsidiary of Samsung Group), Innocean Worldwide(a subsidiary of Hyundai Motor Group), and HS Ad(LG's in-house agency) are the largest Top3 advertising agencies in Korea, but on a global basis, WPP, Omnicom Group, and Publicis Groupe are the Top3 largest advertising groups. In addition, there are the Interpublic Group of Cos[Interpublic Group] and the Dentsu Group who is leading of Asia market. Of course, in recent years, there have been new competitors are emerging such as Accenture Interactive who recently changed to Accenture Song, PwC Digital Services [PwC, PricewaterhouseCoopers Digital Services] and Deloitte Digital. Most of them based on consulting service but this part seems to be different depending on what criteria you define advertising companies. Below is Top agency companies in 2021 worldwide revenue by Ad Age.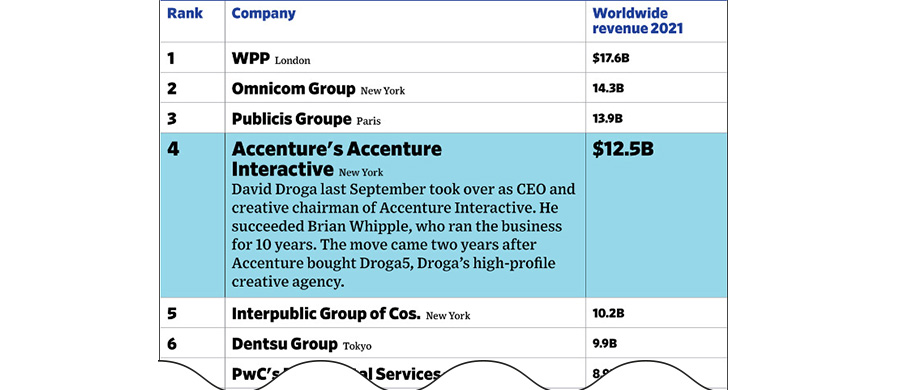 1. WPP
WPP is not just a simple advertising agency, but rather a holding company at the top of a group that owns a number of advertising agencies. Based in London, UK, it started in 1985 and has annual revenue about 12.8 billion GBP in 2021 with 100,000 employees working in more than 100 countries. In recent years, agencies under WPP have been merged and abolished in line with the trend of the times. There are featured creative agencies including AKQA, GRAY, Ogilvy, VMLY&R, and WUNDERMAN THOMPSON. There are also separate media agencies who specializing in media planning and buying and representative ones include Mindshare, Mediacom, Wavemaker, Essence and XAXIS. All of them again belong to a holding company called GroupM and GroupM recently launched integrated organization that serves search, social, and programmatic media at once which called as GroupM Nexus. I also think MINDSHARE, it is amazing which is still strong even after agencies such as Maxus and MEC rebranded as Wavemaker in 2017 and ESSENCE and MEIDACOM recently merged into EssenceMediaCom. In addition to this, KANTAR which specializes in data and insights, and Hill & Knowlton which focuses on PR and communication, and many other agencies are under WPP. So, WPP is the undisputed global No.1 advertising group. GroupM Korea is ranked as Top 7 in Korean market.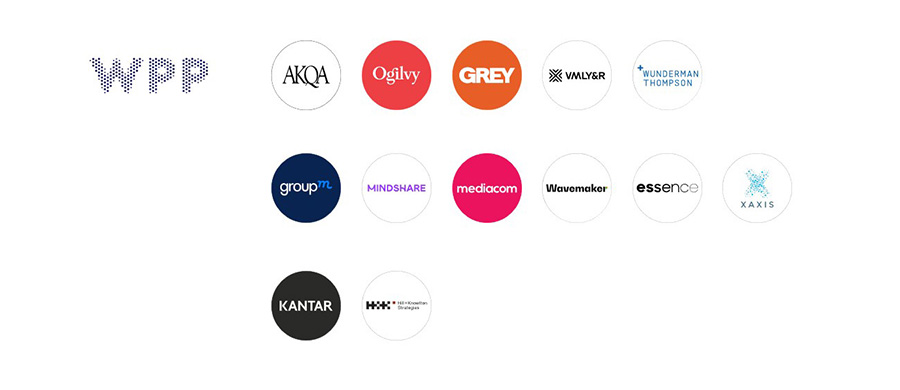 2. Omnicom Group
Omnicom Group based in New York, USA. it was established in 1986 and has a number of advertising agencies under its holding company like WPP. Representative creative agencies include DDB, BBDO and TBWA. All media agencies are under Omnicom Media Group, OMD and PHD and digital performance agency as Reolution which is integrated OMG Direct [Pathway] and Relolution Media. On the PR side here is FleishmanHillard. Their revenue is 13.17 billion USD in 2020 with 64,100 employees are working in 100 countries. In 2013, against WPP, Omnicom Group announced a strategic merger with France's Publicis Group which surprised the world, but it soon faded away. There are some agencies under Omnicom Group in Korea and TBWA Korea ranked as Top 8 in Korean market.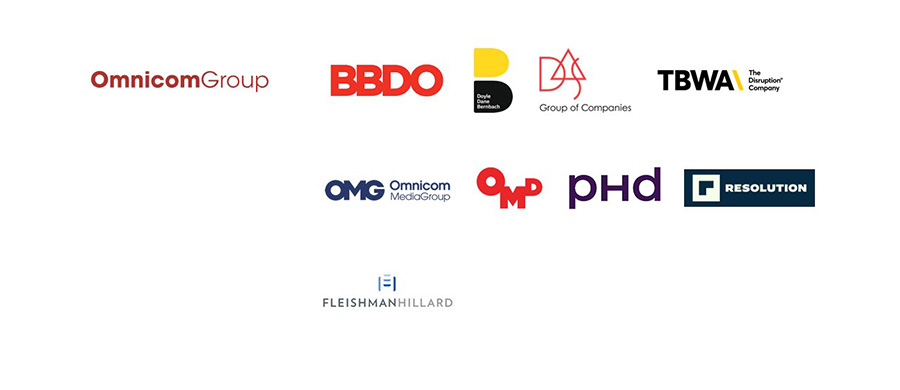 3. Publicis Groupe
Publicis Groupe founded in 1926 based in Paris, France, it has a history of nearly 100 years. Their revenue is 10.79 billion EUR in 2020, 96,000 people work in more than 100 countries. Representative agencies include Starcom, ZenithOptimedia, Digitas, and Performics. In case of PR & Commnunication, there are Leo Burnett, Publicis worldwide, and SAATCHI & SAATCHI. Publicis Group tried to merge Cheil Worldwide from Samsung in 2016, but it was canceled. Leo Burnett is seem to be legal entity instead of Publicis Group in Korea which ranked as Top 9 in Korean market.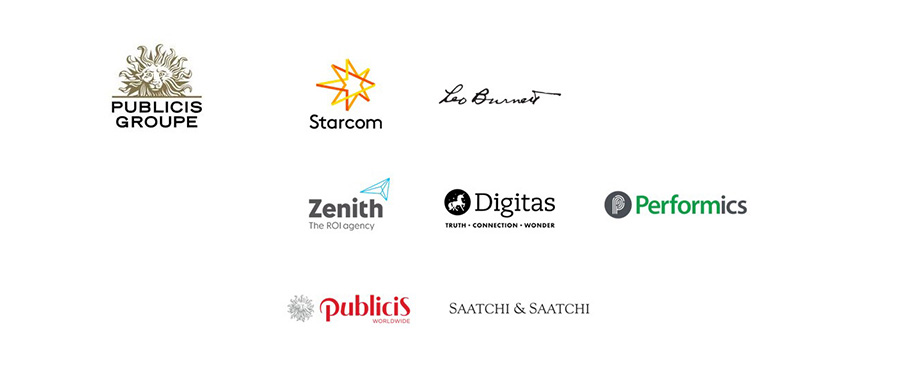 4. Interpublic Group of Cos (IPG)
Interpublic Group of Cos or IPG which Headquarter located in New York, USA, it was established in 1930 and 54,000 people working with 9.71 billion USD revenue in 2018. Representative agencies include McCann [formerly McCann-Erickson], Universal McCann, R/GA, MRM, and Reprise Digital, and Weber Shandwick for PR & Communication.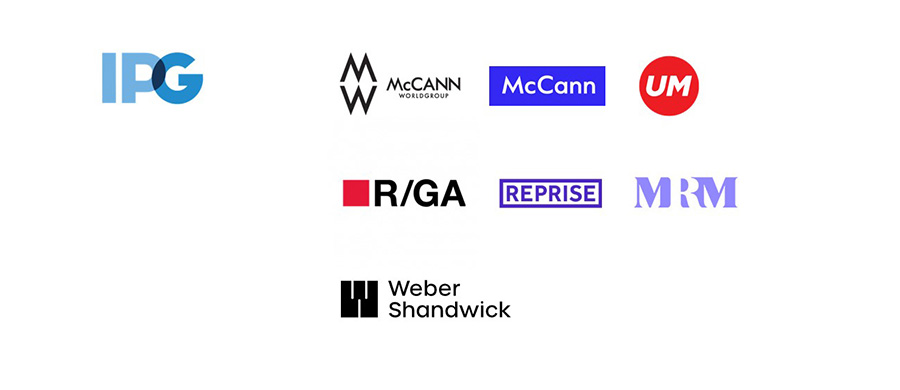 5. Dentsu Group
Dentsu is an advertising company based in Tokyo, Japan which is established in 1901 with a long tradition. It currently has an overwhelming position in the Japanese market with revenue 1.018 trillion JPY and competing for first position in Asia. In 2012, it also proceeded with a merger with Aegis Group in the UK, which was third in worldwide at the time. Representative agencies include Dentsu Creative, dentsuX, CARAT, iPROSPECT, isobar, and MERKLE. Dentsu recently carried out the integration of subsidiary agencies such as Dentsu MB, 360i and isobar under Dentsu Creative.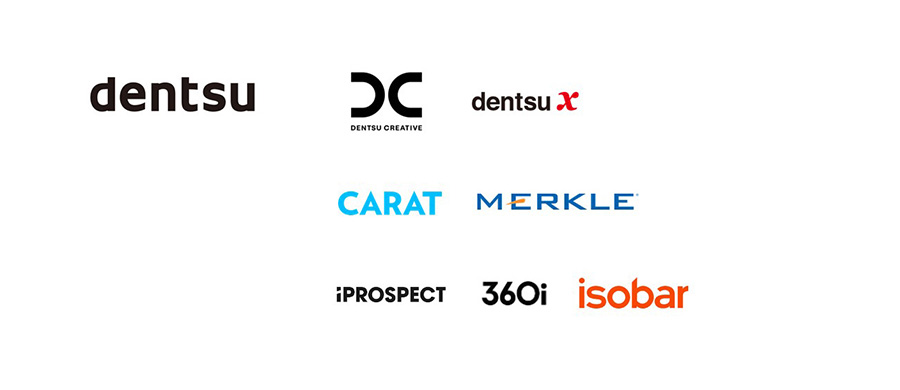 The Reality of Global Agencies
Contrary to what you see from the outside, global agencies are closer to advertising agencies that move individually and independently regardless of holding company which is far different from Korean conglomerates that works in perfect order in systematically based on HQ. In this part, apart from the relationship between individual agencies and the holding company, even agencies of the same brand may work differently by country, so there are many times when it feels as if it is an individual different advertising agency. Because of this, it can be said that the downside of a global agency is that you may have a completely different service experience depending on which brand or agency you work with. In the case of advertisers who have experienced with this unexpected experience, they focus on selecting an agency based on consolidated network, and if the agency in the targeted country fails to provide a stable service in standard, proceeding part of service through another competitor or other brand agency are also increased. Most of these global agencies are mainly selected and operated by global companies who trying to enter the global market at once. In the case of global brands, there are strong demand to manage more than 50-80 countries at once globally, so they have no choice but to prefer an advertising agency that has a global network. Eventually, the contract also prefers to mid-to-long-term such as 3-5 years at the global unit rather than locally 1-2 years as in Korea. In this case, the agency network can't help but vary from country to country in terms of performance and service management processes, but in some ways, contracts are made on a fixed scale for many years, which can help to significantly reduce agency fees.
Lack of Inbound & Sales in Local Level
The problem is that the low commission rate in global companies may have a direct impact on the workload and corporate culture of agencies in other regions than global. For example, one of brand has key market in the United States or Europe, the agency's profit structure can be guaranteed due to the volume of billing in global level, but in the case of local such as one of Asia, with low of advertising billing and low fees, agencies may be forced into a situation where they have no choice but to walk on their own path. It means that only independent local sales, not the halo of a holding company or global agency brand, can create a stable and profitable structure in county level. Unfortunately, most of global agencies in Korea that I know their heads only specialized in advertising itself or employee management, but they do not have much experience in how to make new sales and attract new local clients. In the case of local offices in global agencies, it may be natural that occurs because most advertisers or contracts are already made on a global basis.
How to Choose Right Advertising Agency?
Essentially, I believe that the essence of marketing and advertising should be faithful only to services for clients or advertisers. However, unlike the manufacturing industry, the role of a holding company in the advertising industry could be represented the interests of stockholders with some reasons. Personally, the basic prerequisite is that being a holding company in the advertising industry incurs unnecessary costs by name of management, and in the end, it is inevitably billed as an additional cost to many of other clients. The second part is questions about that it is right for the top global advertising group of holding companies to collect some of profits by individual local agencies. As a result, the overall profit structure of independent agencies could be weakened, and it is inevitably directly or indirectly affect individual member or agency culture. In other parts, there is an advantage because it is possible to respond to risks at the global level in situations such as global economic recession or corona rather than local level. As for the last part, as the saying goes as too big to fail, most of global advertising companies are focused on managing and operating for large clients that spend relatively large amounts of advertising budget. In this case, you are bound to be in a situation where you can only receive relatively lack of management if your budget is not enough for them. In other words, it seems that global agencies specializing in the execution of the traditional media, mainly existing large advertisers, have made significant mistakes in the process of digital transformation in recent years. In the case of digital, insights through data analysis is more important than creatives through media execution or flashing big ideas, and it is a harsh reality that new types of competitors have been taking this part from them now.
English Content List
Korean Content List